"God Is Still Good."
That's what Weidman in spite of his defeat, the only thing which I find more impressive than McGregor's 13-second victory over Jose Aldo.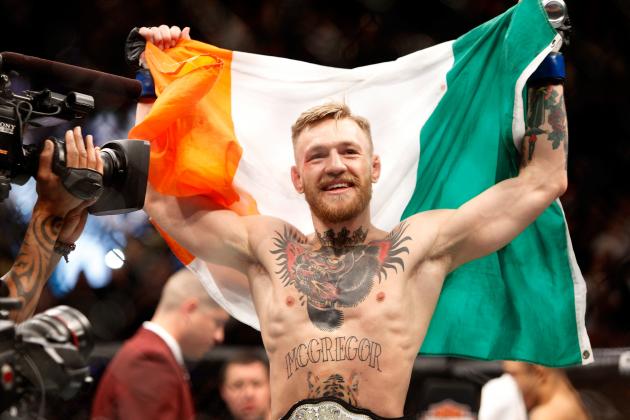 McGregor's victory over Aldo at UFC 194 was impressive, but not as impressive as Weidman's unwavering faith in defeat. Photo from

Bleacherreport

.
Here are my thoughts on each bout of UFC 194:
Holloway vs. Stephens: The fight started slow, but had a strong ending in Round 3. During the final round, Holloway took Stephens down and attempted 2 rear-naked chokes, with an arm-triangle attempt in between. Stephens escaped and went on the offensive with a flurry, with Holloway striking back with a double flying knee. It ended with Holloway counter-punching as Stephens swung for the fences. Afterwards, Holloway thanked Jesus (along with many other people, but it's refreshing to see someone with gratitude nowadays). He also called out McGregor and Aldo. I personally believe Frankie Edgar deserves a title shot ahead of him due to his Round 1 KO of Chad Mendes. Nonetheless, Holloway definitely proved he is right on his heels.
Winner: Max "Blessed" Holloway by unanimous decision.
Maia vs. Nelson: Nelson put up a game effort against Maia. That being said, the crafty Brazilian submission specialist constantly got the upper hand in the grappling exchanges by taking Nelson's back or getting in mount. Does Maia deserve a title shot after this? No. A title eliminator? Definitely.
Winner: Demian Maia by unanimous decision.
Souza vs. Romero: Round 1 was all Romero, who knocked Jacare down with a spinning hammerfist and hit him with so much ground-and-point that Jacare could barely walk back to his corner. Round 3 was all Jacare, who swarmed Romero against the cage, took him down, and used ground-and-pound from Romero's half guard. Round 2 was controversial, because of Romero's cage grab to defend Jacare's takedown, allowing him to wind up on top. In my opinion, the fact that Goddard, my new favorite referee, stood them both up to take away Romero's advantage and gave him a stern warning for the fence-grab excluded the need for a point deduction. For that reason, I had Round 2 even and consider the fight a draw. The judges, however, saw it differently and Romero got the split decision. That being said, the fact that both men proudly held up the Jesus flag makes me consider them both winners.
Winner: Yoel "Soldier of God" Romero by split-decision.
Weidman vs. Rockhold: Even though I was rooting for Weidman, I felt that this fight should have been stopped during the end of Round 3. After taking Weidman down when the former champ threw a spinning hook kick which bounced harmlessly off his back, Rockhold transitioned from a rear-naked choke attempt to mount. After that, he gave Weidman a beatdown for nearly a minute while Herb Dean inexplicably did nothing to stop what could have led to permanent brain injury for the former champ. In Round 4, the fight was finally stopped after Rockhold took Weidman down and slipped out of two guillotine attempts before resuming ground-and-pound from side control. This was easily the most exciting fight of the main card and an upset which I didn't see coming. Even Rockhold said "I can't believe it" during his post-fight interview, and later, "You just gotta believe in yourself. Stay confident."
He also showed good sportmanship by giving Weidman a man-hug afterward.
Weidman was humble in defeat, saying "It's Luke's night. God is still good. I'll be back."
His dad got on the mic and said "Everybody thank you, and this is still my boy!"
Indeed, he is, and because of the way he handled himself, Weidman is now my new favorite UFC fighter.
Winner (and new UFC middleweight champion): Luke Rockhold.
Aldo vs. McGregor: All I remember is seeing Aldo fall face first onto the canvas. That's how quick this fight was. I just sat there, bewildered, telling my friends over and over that "I need to see the replay. I need to see the replay." The replay showed that the KO was legit. McGregor dropped Aldo with a left hook. Aldo connected with a right, but it was a split second too late and McGregor's chin was too strong. After Aldo tumbled onto the canvas, McGregor swarmed with two hammerfists before the fight was stopped.
"Well done, McGregor." I said in front of my friends, refusing to clap
because of what he said previously about beating up Jesus
, but staying respectful nonetheless.
Even though I can't root for a champion who makes remarks like that, the fact that Jesus allowed McGregor to have such a spectacular victory anyway is proof that, as Weidman said, "God is still good." As 2 Peter 3:9 says, "
The Lord is not slow in keeping his promise, as some understand slowness. Instead he is patient with you, not wanting anyone to perish, but everyone to come to repentance" (NIV). In other words, Christ seems to have given McGregor a "divine pass" for now, which shows what an awesome God He is. Not to mention that McGregor was respectful to Aldo after the fight, trying to cheer him up before Bruce Buffer officially announced his victory.
"He's powerful and fast." McGregor said during the post-fight interview, "But precision beats power and timing beats speed and that's what you saw here."
This makes it possible that what McGregor said about Jesus (as blasphemous as it was) may have simply been part of his "Irish Muhammad Ali" on-camera schtick. Although I don't know him personally, McGregor comes across as nicer, more respectful and down-to-earth when he's not promoting himself and his fights. So even though I can't root for McGregor, I can still respect him, in the hopes that, one day, just like Holloway, Romero, Jacare, and Weidman, he will realize that his greatness comes from Christ, and chooses to follow Him, so that He can receive eternal life as well.